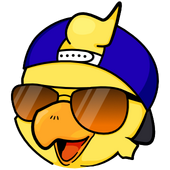 Kweh, bro!
---
Welcome, Fellow Chocobro!
Thanks for checking out Aether's self-proclaimed coolest linkshell. We're a group dedicated to enjoying the social aspects of Final Fantasy XIV, from savage raids to being savage on the dance floor. If you're a member of the Aether data center, feel free to come say hi on Discord. You can also check us out over on Instagram, and follow the adventures of our founder - Chocobro Numero Uno - over on Twitter.
This site is still under construction. Thanks for being cool, bro.